Secondhand Forklifts Sales & Service is proud to offer the most flexible rent to own finance option in the forklift industry.
Our Rent to own product is perfect for businesses who want to keep their options open. So, why lock yourself into long term liabilities that limit your options? Instead, we offer a 12 month agreement, so your business has the flexibility to:
Purchase equipment at any time during the first 12 months and receive a 75% rental rebate.
Change to an extended 3 year rental agreement and own your forklift outright at the conclusion of the rental period
Return equipment at the end of the 12 month agreement if no longer required.
Continue to rent – and we'll simply continue to reduce your purchase price.
---
Try out our free online rental calculator to see how little you will need to pay to get into a great forklift, today!
---
No Credit Checks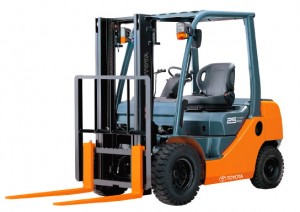 All you need is an Australian drivers license and you can get over the phone approval for amounts up to $25,000. So if you don't have the established business bank relationship or credit history, you can still get the forklift your business needs. Don't settle for something that will slow you down or prevent you from doing your work efficiently. Get a reliable, modern forklift from an established forklift manufacturer, and get it today!
---
Case Study
Tom needs a forklift for his new business. He is bringing in auto parts from Japan by container. These parts are very heavy and to unload by hand takes his staff hours of valuable productivity time. It's also dangerous and dirty work. Because Tom is a new business owner he doesn't have enough financial history to qualify for a bank loan. He could max out his credit card but then he would be paying enormous amounts of interest. He has about $6000 in capital reserves. He could spend it all and get a cheap container forklift, but Tom knows that his business will depend on this forklift and it's operational efficiency. An older unit will be slower and less powerful, and prone to breaking down. Instead Tom decides to use our rent-then-own system. By delaying his capital purchase for 12 months, he increases his tax write off, and allows his cash to be put to better use.
| | |
| --- | --- |
| Cash Price | $12,000 |
| Your Weekly Rent | $166.25 |
| Your Purchase Price for year 1 | $6720 |
| Total Rent for 12 months | $8640 |
| Net rental cost after 30% tax deduction | $6048 |
| Total nett rent | $12768 |
| Rental cost of ownership | $768 |